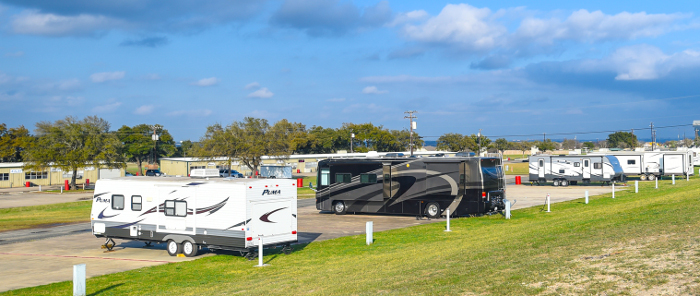 The RV Park is open year-round, both during events and otherwise. During major events at the National Shooting Complex, spaces are rented for the entire event period with an applicable event rate. During non-event periods, daily rates apply.
Member rate is $20/night reduced to $15 for a stay of 8 or more nights.
Non-member rate is $30/Night and $25 for stays of 8 or more nights.
For information or reservations, contact nscrv@nssa-nsca.com or 210-688-3371 ext. 244.
For reservations, call 210-688-3371 ext. 244 or email nscrv@nssa-nsca.com.
---
RV Site Policies and Procedures
New Policies Effective February 14, 2023
Registered and Non-Registered Events
All sites will be offered as "event reservations."
Reservation inquiries should be directed to the NSC at nscrv@nssa-nsca.com or 210-254-1526.
Open sites will be assigned in order from the established wait list or on a first-come, first-serve basis if no wait list exists. Payment must be made in full upon acceptance of site.
Check-in with valid ID is required within 24 hours of arrival. Check-in will be in the Pro Shop located in the Club House.
Check-out is required at time of departure and can be in person at the Pro Shop or by phone to the Pro Shop at 210-254-2546.
Reservations are limited to one (1) site per person/family.
Reservations are for RV and/or camper use only. Sites may not be used for vehicles, carts, trailers, BBQ pits, chairs, tables, or any other items.
Arrival and departure dates will correspond with event dates. If available, additional days, pre- and post-event, can be reserved and will be assessed the applicable day rate.
Once a site is obtained, holder of site will maintain rights to that site for the following year's event by re-establishing reservation and submitting full payment within two (2) weeks of departure of current year's event. Failure to re-establish reservation, including full payment, will result in the site becoming open.
Site may not be transferred to another individual.
Subleasing by site holder is not allowed. If site is found to be occupied by someone other than the site holder, resident will be assessed the event rate and/or evicted from the site. Additionally, original site holder will forfeit the right to maintain the reservation for the following year's event.
If cancellation notice is given outside 45 days of event, refund of payment will be given and site will return to the pool.
The refund can be applied to the following year's reservation to maintain right to site for the subsequent year. This "rolling" of payment to retain the site will be allowed on a no-fault, one-time-only application. Non-attendance in the subsequent year will result in loss of the site.
When a site is offered to someone on a wait list, it must be taken and all policies adhered to. If site is not accepted, the person will be removed from the wait list or moved to the last position for future opportunities.
RV Park Rules & Regulations
RV's are to be parked in a way for easy access for NSC Staff and Emergency personnel.
Quiet hours are from 10:00 p.m. to 6:30 a.m.
Vehicles are not allowed to block avenues of entrance / exit of other lease sites.
Golf carts / utility vehicles are permitted. Proof of liability insurance must be provided to NSC.
Speed limit is 15 mph throughout the facility. Beware of wildlife.
Pets are allowed but must be on a leash, penned, or tied to the RV at all times. Do not leave pets unattended. Please pick up after your pet.
Barbecue pits are permitted; however, you must have some type of ABC fire extinguisher, water or sand. All fires must be in a confined container.
Trash is to be placed in trash receptacles in the RV grounds. Pick-up service is available daily.
"Gray water" is not allowed to flow into streets or onto the concrete slab.
Clothes lines are not permitted. Coin-operated laundry facilities are available behind the shower house.
NSC workshops are off limits to all persons other than NSC personnel.
Mail service is available in the Main office during normal business hours (M-F, 8-5). 
Management assumes no responsibility for injury, accidents, or losses from any cause.
National Shooting Complex reserves the right to refuse service to anyone.