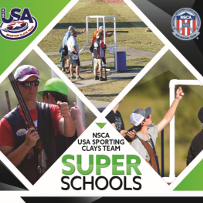 This year's USA Sporting Clays Team Super Schools are getting rave reviews from participants, and for those who haven't yet participated in one, there are two opportunities. The USASCT will offer two Super Schools immediately following the World English Sporting Championship on May 1-2 at the National Shooting Complex — one that is open to everyone and another that is for ladies only.
The Super Schools provide 8 hours of instruction each day, all targets, and breakfast and lunch each day.
USA Sporting Clays Team members Kevin De Michiel, Zachary Kienbaum, and David Radulovich will instruct at the school open to everyone. Cost of that school is $2000 per person. Desirae Edmunds and Diane Sorantino will teach the ladies-only school, and the fee is $1500 per person.
For more information or to reserve your spot at one of these upcoming schools, contact Brett Moyes, bmoyes@nssa-nsca.com. Space is very limited, so don't delay!